Ahh, finally enough time to sit down and blog from my laptop, not my tiny keyboard on my iphone!
I spent the better part of Saturday at the Expo and am still overwhelmed by all that I learned. I have stacks of handouts and another notebook filled with diagrams, sketches and notes. While many of the techniques I learned are too complicated to describe via blog post, here are some of the highlights of other notable sewing "ah has":
:: I stopped by the Burda Style booth and got to see samples of all of their new styles, everything from jackets and dresses to pants and skirts. Very inspiring! By the way, they are on
twitter
now too!
:: My last session was with Patti Palmer from
Palmer Pletsch
. I was very impressed. She has been in the industry for more than 30 years and knows how frustrating it is to make a muslin version of your garment before sewing your final garmet... so she teaches the" tissue fit" method. Essentially, with the help of tape to reinforce the pattern and another person, you fit the tissue pattern to your body, pinning like it were your garment. You can then mark the adjustments. Then make your garment based on those changes. For the final alterations, you wear your garment inside out and can alter the seams to fit. Very interesting. I am hoping to make several garments soon, so I'll give it a try.
:: From my serging session:
-- Use a makeup brush to clean it thoroughly
-- Wooly Nylon is an all around pain, you have to change the tension on your machine and it will not wear as well as cotton thread.
-- Use fray check and knot to secure the ends of the serger thread chain on the garment.
-- Only touch one dial at a time when tweaking tension etc.
For two-thread function -- good for finishing edges or flat look
For three-thread function -- Ideal for making two rows and less bulk
For four-thread function -- the least used stitch, but used for wovens.
There are now 10-thread sergers on the market!!
:: I ended up buying a double needle, which one of the instructors from the serger seminars had mentioned was a great way of getting the double finished stitch look without having to purchase a coverlock machine. All you have to do is serge, iron to the side and use the double needle to finish that hem/seam. Brilliant.
:: I also bought a bias tape maker. In one of the sessions, Beautiful Binding and Beyond, the teacher raved about the Clover brand bias tape makers. I bought one and we'll see how it works. It seems easy enough... just cut a piece of fabric on the bias, insert into the maker, pull and iron down. The deal breaker for me was not having to run to the store and buy bias tape. The material on those Wrights bias tapes are very cheap and sometimes makes the finished product look as cheap as they are.
:: I also went to the Simplicity fashion show, which was great. Simplicity showed off some of their newest Project Runway, New Look and Simplicity patterns. I ended up running back to the booth and bought these three for a few bucks each: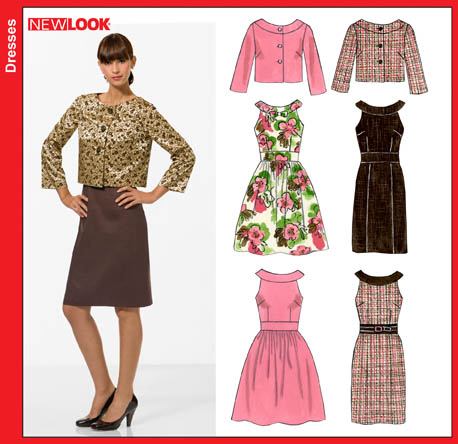 I loved the middrift on this dress. I plan on making the middle black dress for my friend, Kate's, wedding this summer.